Hava will now allow you to share individual diagram views using iframe embed code without the need for plug-ins, special API access, complex code or lengthy command line instructions.
Any of the diagrams you have generated automatically by connecting your cloud accounts, or have generated using custom on-the-fly queries and deep search may be embedded into other web properties or applications that support iframes.
Typically used for :
Internal Intranets.
Wikis and Documentation.
Development and Support Tickets.
Dashboards.
For instance, you could embed a diagram related to a development or support ticket in Jira.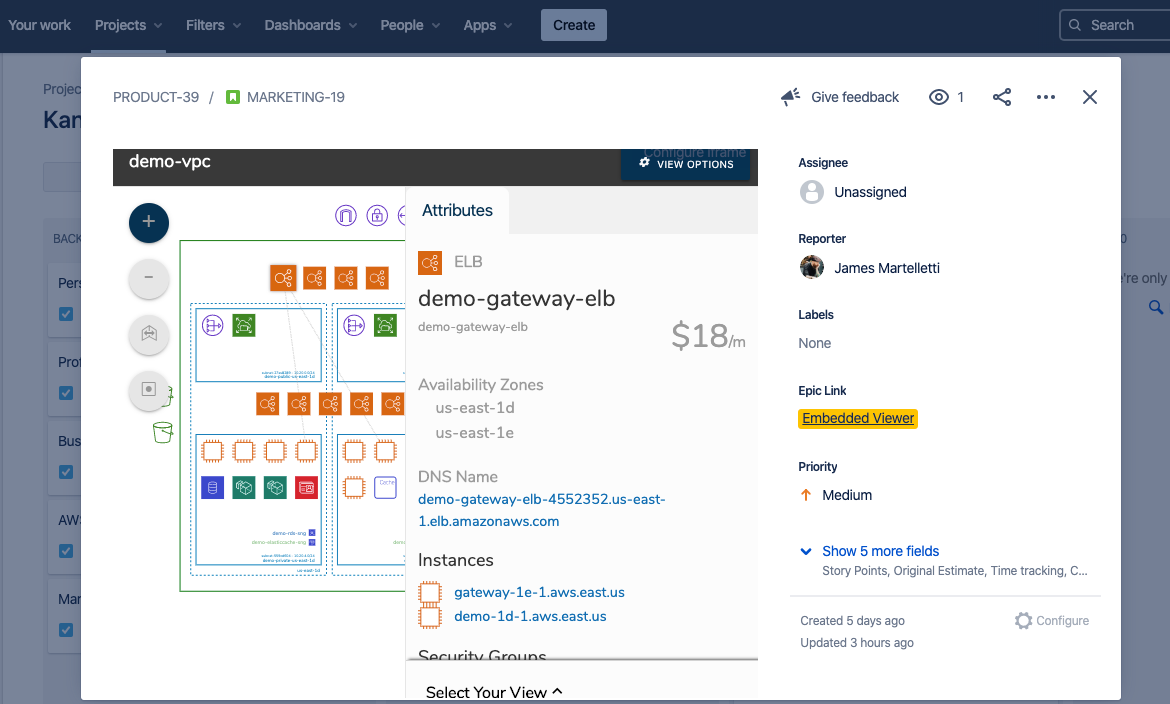 The embedded diagram is live and fully interactive, which means you can click on resources, display attributes and inspect elements on the diagram just as if you had the diagram open within the Hava application.
This could prove particularly useful if you wish to share diagrams without giving the recipients access to your Hava account.
How to embed Hava cloud diagrams
Open the desired diagram you want to embed and select the required infrastructure, security or container view to share.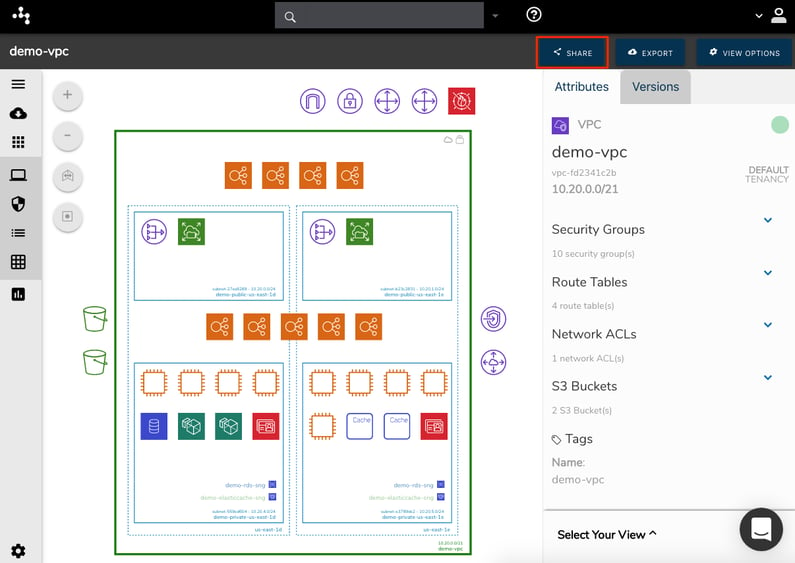 Select the "Share" button which will generate the iframe code snippet.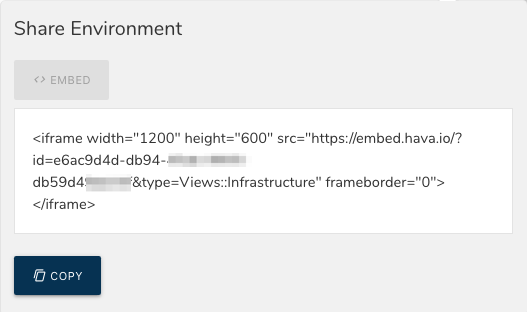 Copy then paste the embed code into any property that supports iframes.
Below is an example of the embedded viewer displaying an AWS VPC interactive diagram. If you select items on the diagram, you will that the diagram is fully interactive and that the attributes pane on the right displays contextual values based on the resources or elements selected.
You can also select display options to map connections and resource names onto the diagram.
( Hava Infrastructure View )
All the Hava diagram views can be used with the embedded viewer.
For instance this security view.
( Hava Security View )
Of course within the interactive controls of the diagram, is the ability to change between views, so even though we have initially embedded the security view above, the viewer can take the 'select your view' option and swap to the infrastructure view, extended infrastructure view, list view or container view if available.
The use cases for the embedded viewer are many and varied and as long as the target site or application supports iframe embeds then you will be able to embed your fully interactive AWS, GCP and Azure diagrams into the target location.
One word of caution : Since potentially sensitive information like security group information or IP addresses can be viewed on the diagrams, you should consider this carefully before embedding your diagrams on publicly accessible web properties.
At time of publishing the embedded viewer is available for activation on Professional and Business subscription levels.
Hava is a 100% focused on automated cloud diagrams and is a market leading Cloudcraft and Lucidchart cloud insights alternative.
If you are not yet using Hava for your automated cloud infrastructure diagrams and compliance documentation, the embed viewer is available on all Professional and Business 14 day free trials.
Hit the button below to get started. No credit card required.