As more companies turn to the cloud to host critical business applications, mass cloud adoption brings with it a new set of challenges.
You might be involved in a large organisation with offices spread over the country or across the globe, or you might be a managed service provider or pro services consultancy with hundreds of clients who in turn have branches or offices distributed across the globe.
It's likely that for the clients or infrastructure that you are managing, each location has unique solutions, tools and applications they are running to meet their business needs. It doesn't take long for the number of cloud services and resources to scale and become difficult to manage from a technology or budget perspective.
This issue is only compounded when you are an MSP or consultant managing multiple client networks. While each individual account might be manageable, when you add them together, keeping on top of the running resources, ensuring legacy or obsolete resource instances are killed off in a timely manner and unnecessary regions and replications are removed can be difficult and easily ignored.
Unneeded regions, oversized resources, unused services, legacy environments that sit there untouched for years can all add up to a massively overblown cloud spend month after month.
As a business transitions through cloud adoption, to migration and fine tuning and scaling their established networks, sooner or later their thoughts will turn to cloud estate rationalization and you as their MSP or professional services provider will most likely make it your business to do the same.
From a FinOps perspective, it is glaringly obvious that you and your clients should understand exactly what is running in your cloud accounts, what is the purpose of each service or resource and how do they contribute to the business outcomes of your organisation or client.
The first step in understanding your digital real estate is to use a tool like Hava to scan and diagram exactly what is running in any given cloud account. The advantage of scanning and auto generating diagrams apart from the obvious time savings is the fact that your diagrams detail exactly what is running now.
Take for instance AWS infrastructure. When you connect an AWS account to Hava, the application will scan the account configuration and produce a diagram set for each VPC discovered, showing the regions in use and subnets in the VPC. So instantly you get to know about all the VPCs running, including any dev or test environments or snapshots that may no longer be required.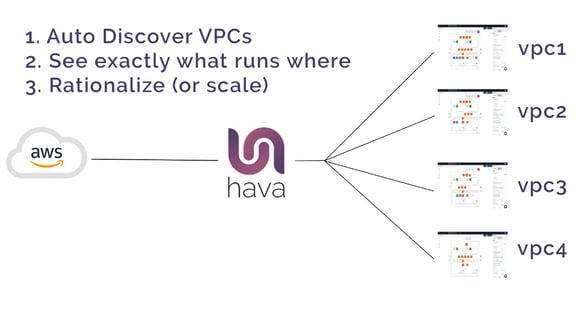 Having your client's cloud estate laid out like this can be the start of many conversations. What are the income producing networks and should they be scaled?, what does that look like? What infrastructure is no longer required?, or what resources are undersized, or oversized.
Just as the diagrams produced by Hava can be the start of the conversation, especially with a brand new client, they can also be a useful validation of your work. A visual depiction of a completed network provides transparency. You can easily show your client what you have built and what they now have running along with cost estimates. You can easily embed interactive cloud network topology diagrams directly into their intranet or company wiki so they can see exactly what their network(s) look like.
Knowing exactly what is running everywhere, you can demonstrate to all your customers how the services and resources you have running match their desired business outcomes. And if they don't, you have a great starting point to understand what can be scaled in or out or what can be added or removed.
You can see and explain when there is more work to be done to remediate excessive cloud spend by rationalizing the deployed cloud resources in both your own and your client's cloud accounts.
You can use Hava to map out what is running in AWS, Azure, and GCP automatically. Once generated, Hava's diagrams stay up to date automatically, retaining superseded versions for audit purposes.
You can take the fully featured "teams" plan for a 14 day no obligation free trial using the button below. At the end of the trial you can select from several plans including a forever free tier.
Hava is available online as a SaaS solution, or can be self hosted on your own infrastructure should you have governance or security policies preventing you connecting to the SaaS application.
If you have any questions or you are an enterprise or team that would like a 1:1 live screen share demo, please get in touch.