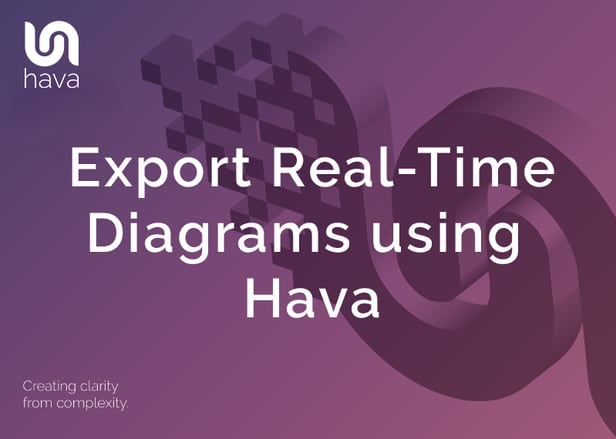 Network diagrams are only of any practical use if they are up to date. Being able to visualize your cloud network "live" gives you the best chance of identifying problems especially if you are in the middle of an outage or your application is experiencing unexpected performance issues.
Having up to date diagrams is also enables you to communicate how your application infrastructure has been built which is a massive time saving when you are bringing new team members, external consultants and management up to speed on your network design.
Hava automatically generates network topology diagrams for AWS, GCP and Azure when you connect a set of read only credentials or an AWS cross-account role and then continuously rechecks your cloud configuration for changes.
When a change is detected, a new diagram set is generated and the superseded diagrams are moved into version history. This provides you with an archive you can compare your current 'live' configuration to if you are trying to track down what has changed that may be causing problems.
When you log into your Hava environment diagram console, the diagrams that are available are "live" and reflect the actual state of your cloud network as at the last time it was polled by Hava's background process.
If you have made changes and want those changes immediately shown on the diagrams, you can simply request a manual sync and your diagrams will be updated, making them real-time. The update process is completely hands-free, requiring no manual drawing or drag-and-drop intervention.
Hava has a number of options for exporting real-time network topology diagrams.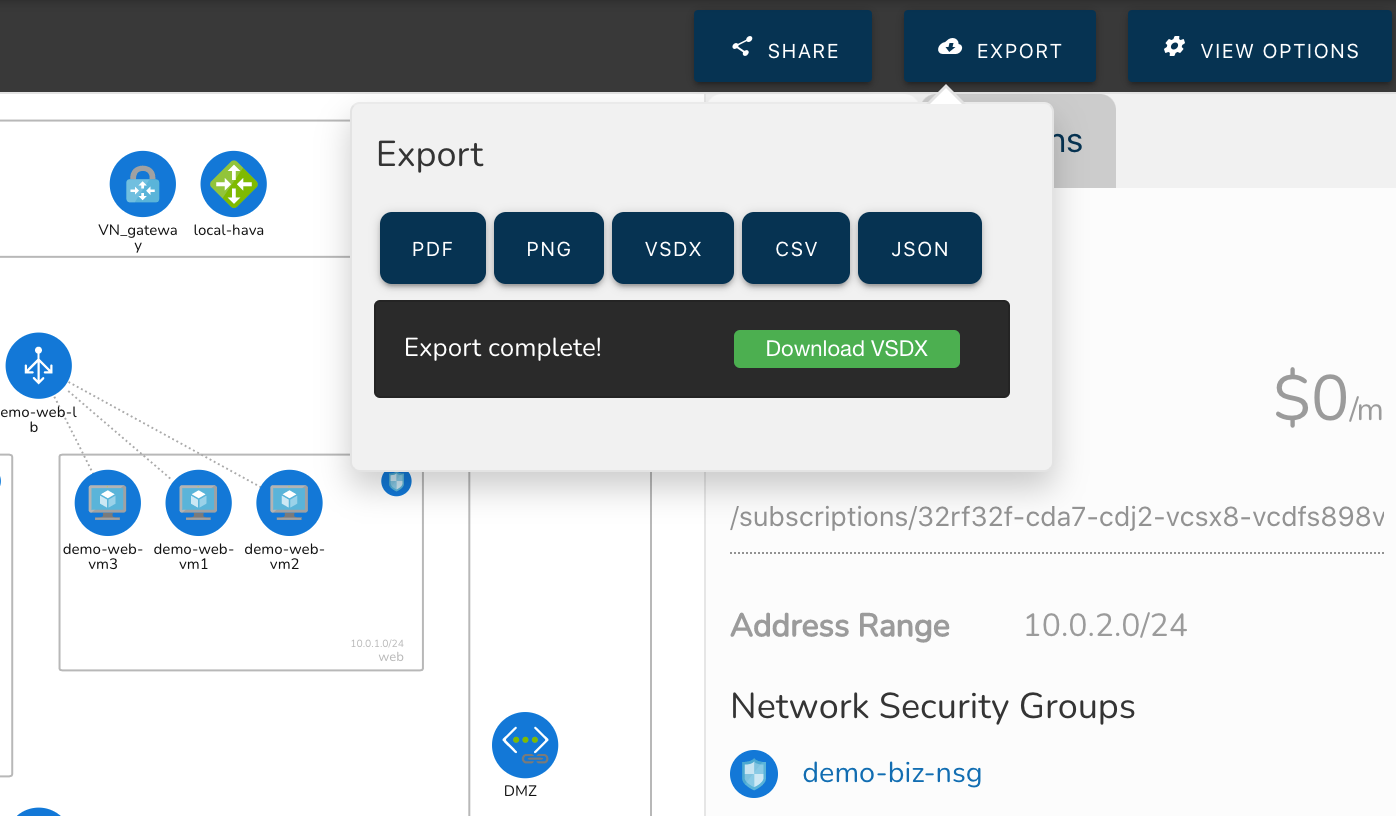 Real-Time PDF Network Topology Diagrams
Selecting the PDF option will trigger Hava to prepare the PDF file for export and then prompts you to download the PDF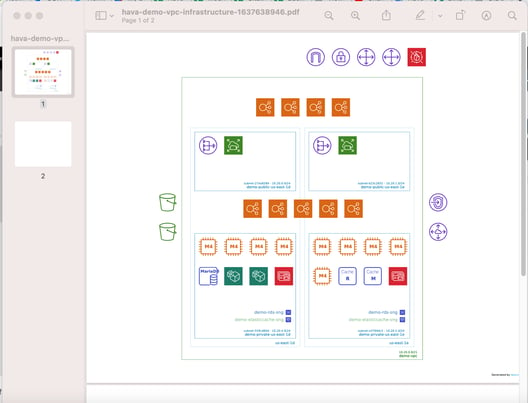 Real-Time PNG Network Topology Diagrams
The second export option is a PNG image, this is ideal for quickly producing a representation of your network for inclusion in reports or presentations or to pin on your wall for you to admire on a daily basis.
Like the PDF export, when you select the PNG option, Hava prepares the export file and when ready it prompts you to download.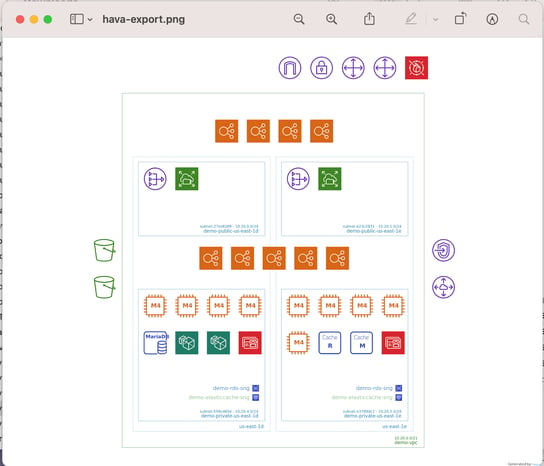 Real-Time Visio Cloud Network Topology Diagrams
The next export option is VSDX (Microsoft Visio) which is supported by several drawing applications. Hava provides this export for users that would like to edit and embellish diagrams with information or resources that don't yet exist. This might be useful when redesigning a network or creating a proposal where having the existing network diagram as a base will save a lot of time.
Hava does not provide the ability to edit diagrams within the application, this is because the diagrams always represent the truth and can be relied upon to reflect reality under close scrutiny like a PCI audit or insurance investigation. If you could arbitrarily add or delete resources that may or may not exist, then the diagrams can no longer be relied on for accuracy.
The VSDX export works like the other export options, when selected, Hava prepares the file and prompts when it's ready to download.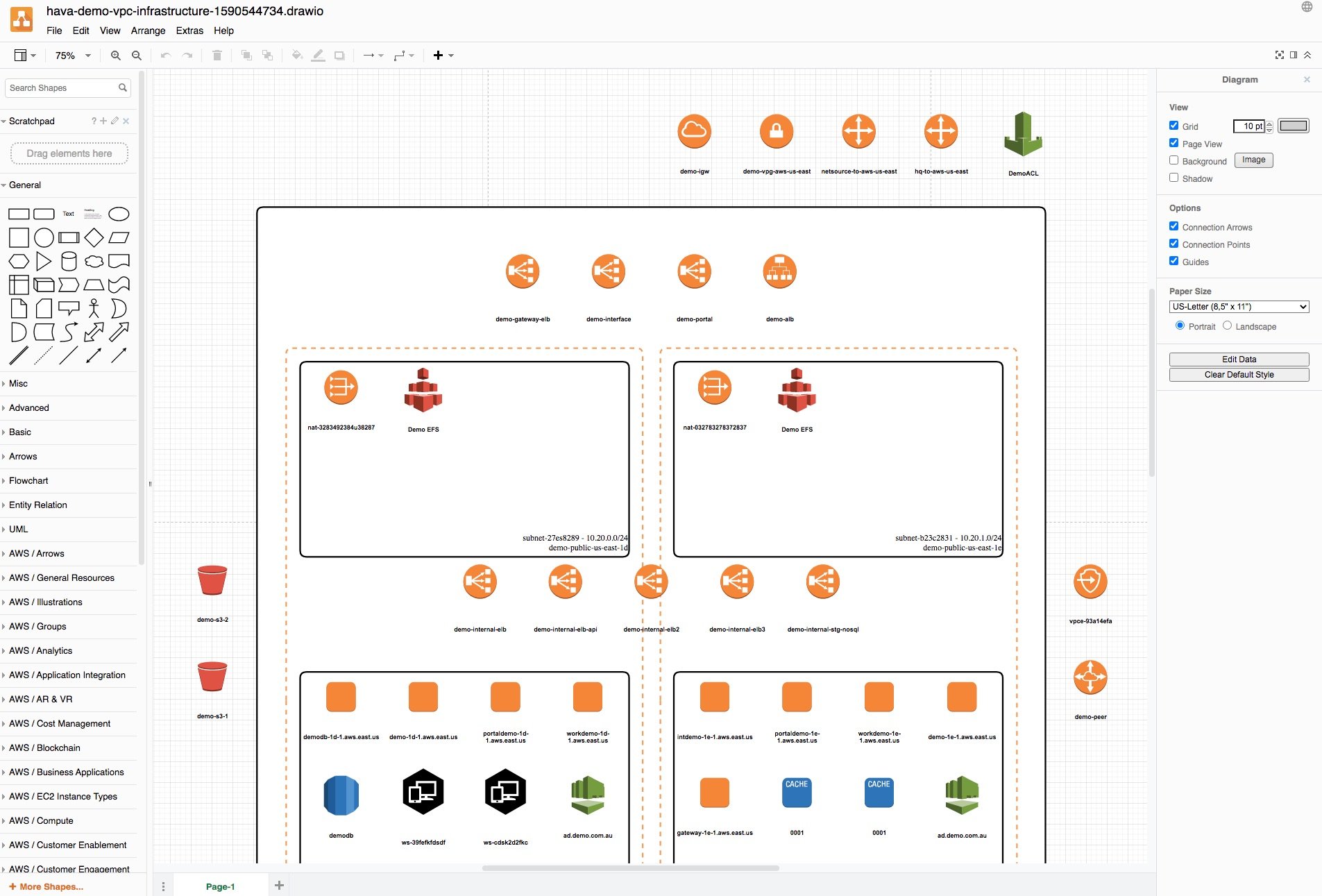 Once you have the VSDX file, you can open it with Visio, Draw.io or any other drawing package and start to edit.
The first three export options are visually based, however there are a further two options that are provided for use programatically. This could be ingested into another application or used with something like Diff to quickly identify the differences in large environments.
Real-Time network topology data in CSV format
The first of the data based exports is the familiar CSV format, selecting the CSV option will prepare the file and prompt you to download when ready.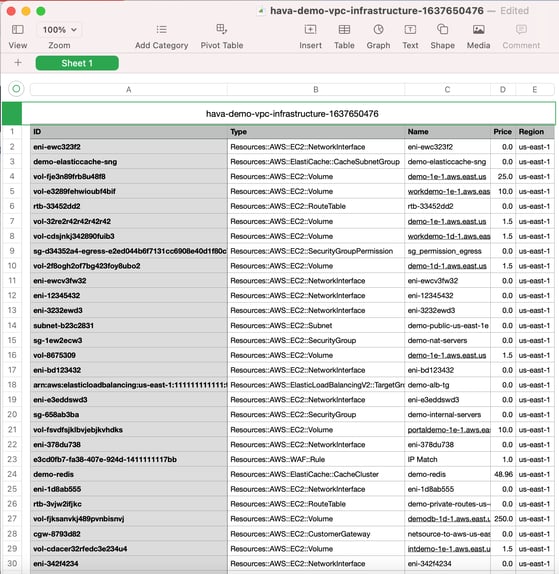 The CSV export details all the known resource IDs, resource types, resource names, cost estimates and region.
The final export option is:
Real-Time JSON Network Data Export
This export option will output your cloud configuration data in JSON format, which you can ingest into other applications or processes.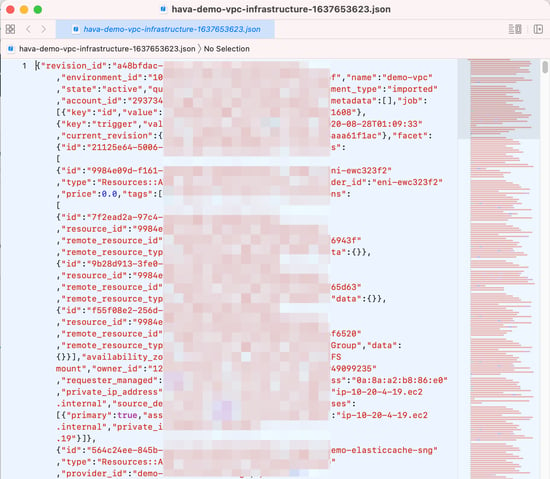 The ability to update your diagrams and supporting metadata in real-time without going near your cloud console coupled with the ability export that data in multiple formats is a powerful feature of Hava that is available on all tiers.
If you haven't checked out the export feature on your Hava account yet, please do. If you are not yet using Hava to automate your cloud diagrams, security visualization and compliance reporting, we invite you to take a free trial using the button below.