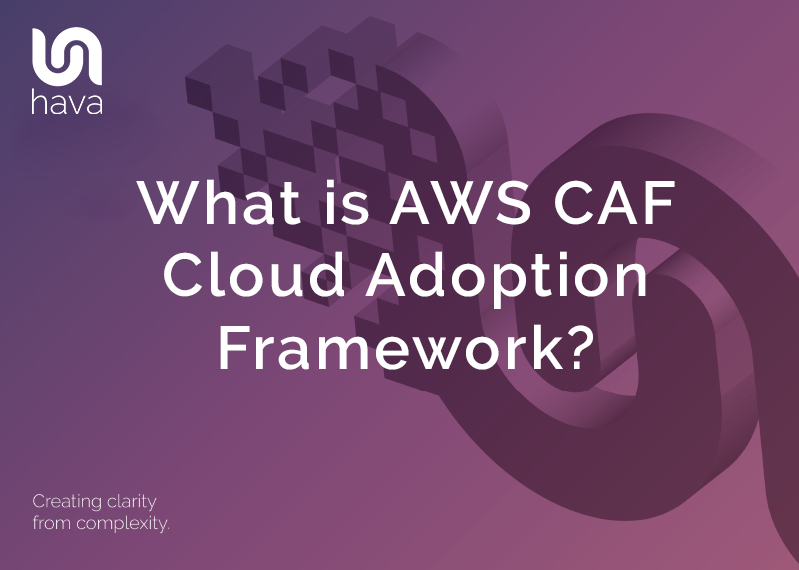 The AWS CAF was created by AWS professional services to help businesses create and implement a comprehensive digital transformation plan that complies to AWS best practice. The framework takes advantage of the lessons learned by AWS pro services and partners helping thousands of customers successfully transition workloads to the AWS cloud.
The CAF helps new AWS customers identify and prioritize digital transformation opportunities, evaluate and increase cloud readiness and to progressively form a roadmap to guide you through transitioning your business to the cloud.
What can go wrong with digital transformation?
There are of course potential speed humps along the way. When you start to move workloads to the cloud.
There will potentially be stakeholders that question the merit of increased cloud adoption.
When you do successfully implement some pilot tests or workload transitions, it may be difficult to communicate the direct or wider advantages of the cloud adoption which may make it hard to develop a sound business case for further scaling your cloud adoption.
Your cloud transition plans can get bogged down in governance processes which can slow down the adoption process for projects. While it's possible to move large portions of your compute workload to the cloud as if you had simply switched from your server to one in the cloud, you could be missing out on the cost and time saving benefits of automation and optimization that are synonymous with cloud continuous improvement and deployment strategies.
Lastly, if your organization has multiple locations and disparate operations or development teams and are not guided by a single vision, then it is possible for many different approaches and tool sets to be adopted that are not necessarily compatible with each other from a compliance, cost, security or availability perspective.
What is the AWS CAF designed to do?
When you transition to the cloud there are a number of direct and indirect benefits associated with the move. Your costs compared to on premise hardware and communications equipment may be reduced, as will colocated hardware in data centers once you transition to the cloud.
Business continuity may also improve. Using a high availability multi region network will have advantages over on premise networks that by nature have a single point of failure.
You may also experience greater operational efficiencies by moving multiple on premise networks to the cloud and eliminating the need for multiple hardware and technical support teams.
CAF is designed to help identify where the cloud can be leveraged and to identify and digitally transform your foundational capabilities using best practices to guide you through that journey,
The CAF helps you understand your own business, your business drivers and takes a deep dive into the goals and objectives of your business operations.
AWS CAF Objective
The main goals of AWS CAF are to identify digital transformation opportunities and to then prioritize those opportunities so they can be addressed.
This helps evaluate your current state of readiness and provides ways to identify how you can improve your cloud readiness.
From there, you can start to iterate transformation roadmaps to begin your move to the cloud.
The process will look closely at your desired business outcomes like reducing costs and risk, improving ESG, revenue growth or increasing operational efficiencies.
The transformational domains that will come under scrutiny are the technology, business processes, organisation and product. Each will come under review in terms of transformational change use cases so that transition to the cloud can accelerate business outcomes.
There are 6 CAF perspectives that are a lens through which to view and advance transformational change. The perspectives are:
Business
People
Governance
Platform
Security
Operations
The perspectives are supported by foundational capabilities which are an organisations ability to leverage processes and deploy resources like technology or people to achieve the desired business outcomes.The process delivers the transformational changes in phases as you envision and align your technology and people to each transitional phase as it is implemented and scaled. This entire CAF process is tailored individually to your business needs over many iterations, so far from being an off the shelf turnkey process, it is unique to you.
AWS CAF Structure
CAF is made up of several components including :
Business Outcomes
The key results you want to achieve through cloud adoption. These might include improving reliability, increasing performance and enhancing security. If ESG is a consideration for your business then improving sustainability and corporate transparency may feature as a desired outcome solved by a transition to the cloud.
New revenue growth opportunities may also be realised with a faster path to market for newly developed products and access to new market segments.
Reduced operating costs, streamlined operations and reduced latency are all positive business outcomes realised after transitioning to the cloud.
Transformation Domains
The use cases of cloud powered change to achieve business outcomes in the areas of technology, process, organisation and product.
The Technology domain may involve migrating and modernising legacy systems, data and data analytics platforms to the cloud.
The Process domain centres around identifying business processes that can be digitised and automated and then identifying how automation and even machine learning can be applied to providing efficiencies and a better customer experience.
The organization domain focuses on reimagining your business operations model or overall operations with the potential to evolve teams and processes around individual operations, projects or products.
The product domain process revolves around reimagining existing products, exploring the potential for new products and revenue streams.
Perspectives
Comprised of a set of capabilities that related stakeholders own or manage in their cloud transformation journey in the areas of Business, People,Governance, Platform, Security and Operations.
Defining perspectives allows you to identify and pinpoint gaps in skills and knowledge in terms of cloud adoption in both technical and non technical roles.
The business perspective is gauged to ensure the needs of the business are in line with the proposed investment in cloud technology. The key stakeholders in the business perspective are the c-suite management (CEO, CTO, CIO etc)
The people perspective relates to the establishment of a continuous learning culture required for success in the cloud. Making sure you have the right management and people in the right roles so the overall workforce is in place to be able to execute not only the transition, but ongoing operations in the cloud.
The governance perspective is related to ensuring successful orchestration of the various cloud initiatives you intend undertaking. As well as the CIO, COO and CTO you might also involve high level transition, data, risk and security management.
The Platform perspective relates to ensuring enterprise grade scalable cloud native solutions are implemented to modernize existing workloads.
The Security perspective is all about ensuring the confidentiality and integrity of your data is maintained as workloads are transitioned to the cloud.
The Operations perspective ensures that services are delivered that meet the needs of the business.
Foundational Capabilities
Best practice guidance for each of the perspectives to help cloud readiness.
These are the specific actions your organisation needs to take in order to transition successfully to the cloud. Changes may include acquiring people with the appropriate skills, or changes to technology and assets
Cloud Transformation Phases
Cloud transformation phases are Iterative phases that guide businesses through the cloud journey which typically include envisioning the move, aligning the business stakeholders to the intended transition, launching the transition and then scaling where necessary. Each phase can evolve as you progress down the path to cloud adoption.
Envision
In this phase you identify opportunities for digital transformation that will help accelerate business outcomes. Opportunities from across the transformation domains once identified are then prioritized. Actions are associated with key stakeholders so that when completed the transition benefits can be communicated as they are completed and measurable outcomes that demonstrate value can be passed on throughout the organisation.
Align
In the align phase capability gaps are identified, cross organisational dependencies are surfaced as well as stakeholder challenges and concerns. Then strategies are adopted to improve readiness ensuring everyone across the organisation is on the same page.
Launch
During the launch phase, pilot initiatives are put into production. The pilots should be highly impactful and guide the direction of future transition phases and prove the benefits of moving to the cloud.
Scale
The scale phase sees more and more workloads moved into production and ensures that business outcomes are delivered and sustained.
The AWS CAF is used by AWS professional services and selected partners to transition customer workloads to the cloud.
You can read more about CAF in this AWS CAF whitepaper
You can monitor the progress of your cloud network as you transition your workloads and networks to AWS by automatically generating network diagrams using hava.io
As more VPCs or containerised workloads are deployed in your AWS account(s), you can pull up accurate diagrams showing the progress of your network and a history of the changes that are rolling out.
Simply connect your AWS account to Hava and your diagrams will be auto generated and then automatically kept up to date when changes are detected.
You can take Hava for a free 14 day trial using the button below.