Continuing on a stellar trajectory and partly enhanced by the pandemic, the adoption of cloud infrastructure and services is expected to top $120Bn in 2021 increasing by well over 35% according to Forrester Research. Welcome to the new normal.
There is likely to be a reshuffle at the top of the vendor leaderboard as enterprises seek to adopt hybrid and multi-cloud solutions to limit exposure to single vendors and also leverage lower cost and edge solutions provided outside their platform of choice.
In terms of market share AWS is still way ahead of the chasing pack however the gap is likely to narrow as it's competitors join forces to offer new and innovative solutions.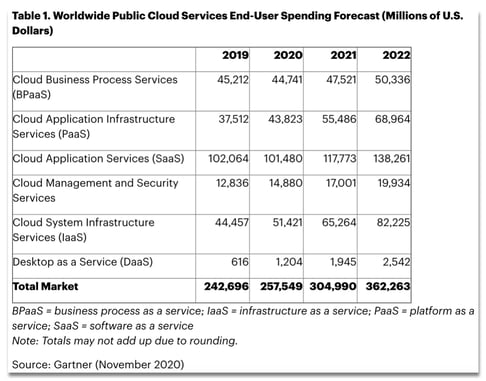 Gartner cite expectations that 70% of organisations expect to increase cloud spending in the wake of Covid-19. The ability to use on demand and scalable cloud solutions to help with business continuity and cost efficiencies has provided the impetus for organisations larhe and small to accelerate their cloud adoption plans.
The top four cloud vendors AWS, Azure, GCP and Alibaba now lay claim to 65% of the IaaS cloud spend.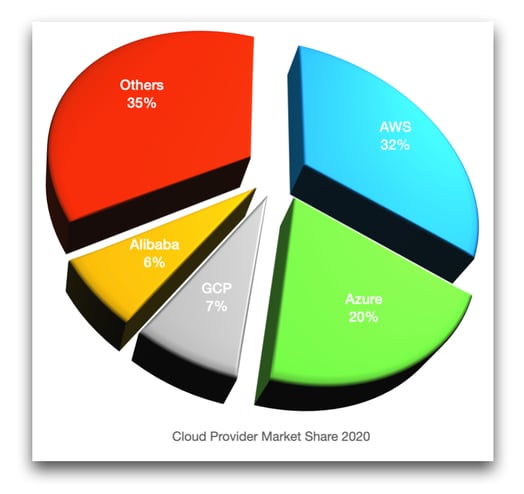 However according to Forrester, Alibaba's revenue from cloud computing offerings grew 59% year-on-year to $2.16 Billion for the September quarter 2020 which should see the mostly China based cloud provider leapfrog Google Cloud platform into third most popular global Cloud IaaS provider.
Cloud Computing Challenges.
In a survey of over 750 enterprise and SMB cloud users, security remains the biggest challenge followed closely by managing cloud spend, governance and lack of resources and expertise.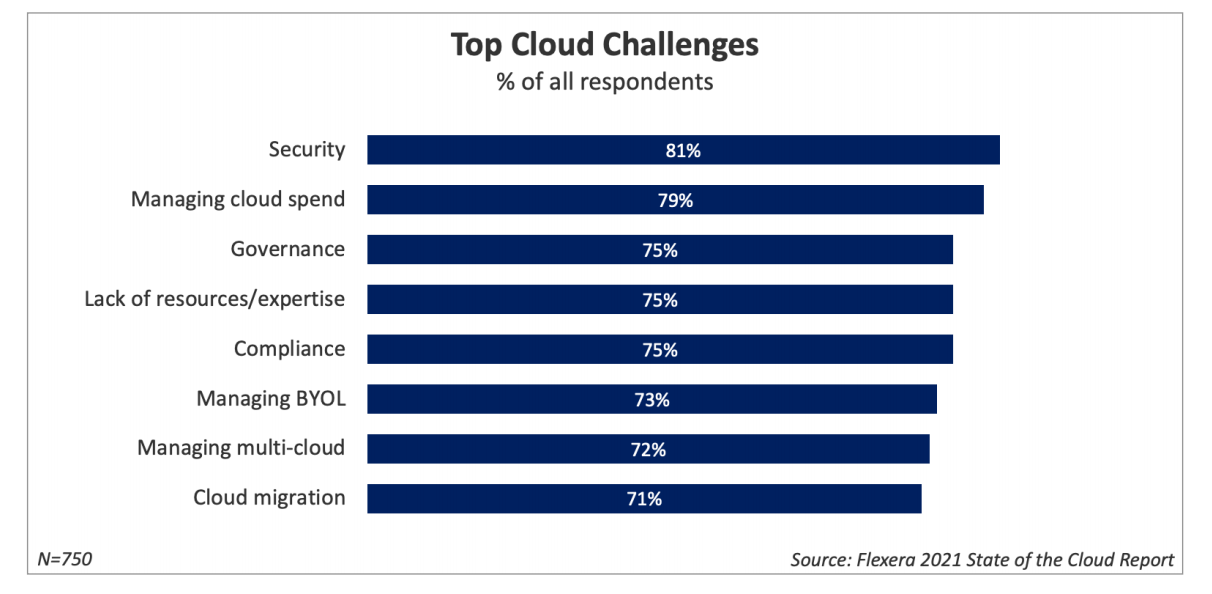 It's reassuring from our perspective to see that the top three concerns of both enterprise and SMB organisations are areas in which Hava can greatly assist.
Cloud Cost Optimization
Cost optimization is top of mind for most enterprise CFO's and to a lesser extent CTO's and we think more organizations will turn their sights on cost monitoring and reduction in 2021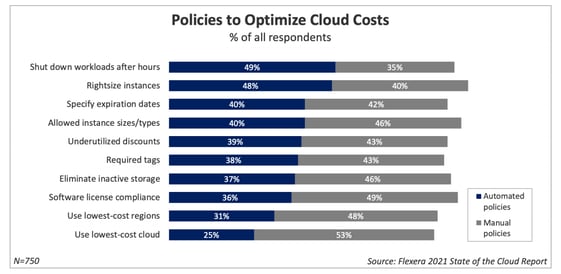 Flexera report that 61% of organizations plan to optimize cloud costs in 2021, with 59% eying cloud migration at some point this year. This is no surprise, as the same report cited respondents believe they are wasting 30% of their cloud spend.
Life on the Edge
Edge networking is likely to continue gaining traction as traditional on prem IT infrastructure vendors like IBM, HP and Dell look to provide models and solutions with seamless cloud integration but lower latency and increased security.
With the roll out of 5G and the adoption of IoT in the manufacturing and industrial sectors low latency devices and solutions at the Edge will continue to scale exponentially as faster dynamic and more responsive application are deployed to leverage the technology.
This may also raise the profile of SASE (secure access service edge) services that provide software defined WAN capabilities mashed up with cloud-native security services like zero trust access and firewalls as a service.
It's expected that as 2021 progresses a greater emphasis on edge security will emerge as organisations look to protect data and applications across this distributed approach. The last mile of distribution will be key challenge and enabled by security services at the edge.
IBM Redhat, HP Enterprise and Microsoft are all expected to invest heavily in the 5G / AI / Edge platforms they announced in 2020 which should benefit software defined WAN providers like VMware, Juniper, Cisco et al.
Expect a lot of activity in the cloud-to-edge space.
Hybrid and Multicloud adoption
2020 saw a lot of things emerge that we'd rather forget about, however we did start to see multiple vendor alliances form in the cloud space.
I'ts not unexpected to see traditional IT vendors like IBM, Cisco, HP, VMware and Dell EMC try to protect their enterprise marketshare and private cloud offerings by developing integrations with the public cloud. The Oracle-Microsoft move is a case in point. The alliance has given the opportunity for mutual enterprise clients to run workloads across Azure and Oracle cloud giving both organisations a chance at better competing with AWS.
AWS however isn't blind to this collaboration strategy which is on full display with the VMware Cloud data center solution hosted on AWS.
Don't be surprised if we see quite a few startups that innovate and create products and services that simplify the process of operating across multiple public and private clouds simultaneously this year.
Flexera reports that 92% of enterprises they polled have a multi-cloud strategy and 80% have a hybrid cloud strategy. 45% integrate data between clouds and used an average of 2.6 public clouds and 2.7 private.
Serverless
Serverless was among the top five fastest growing PaaS offerings for 2020 and will no doubt continue to lure more engineers and developers with the promise of portable scalable platforms that pay little heed to the underlying cloud infrastructure. With your applications talking to the infinitely scalable serverless containers irrespective of where they are hosted, it's an attractive model gaining immense traction.
Expect to see container use increase and the battle to the death of Kubernetes and Docker rage and continue to intensify in 2021
The Rise of PaaS
Platforms as a service are likely to forge ahead unimpeded and improve the fortunes of all the cloud vendors. As well as the runaway serverless offerings from the big three, other players like Redhat, Oracle and Vendia bring more digital transformation opportunities, giving rise to more connectivity and multi cloud integrations.
Virtual Cloud Desktops.
With work from home becoming the 'new normal' we've seen an explosion of collaboration tools, video conferencing applications (Friday Zoom drinks anyone?), virtual whiteboards and greater use of the project management tools we always used.
One often overlooked but increasingly popular cloud based offering is the virtual desktop. Having potential security advantages, shared licencing and pay as you go subscriptions, the adoption of the offerings like Google Chromebook, Windows Virtual Desktop and Amazon Workspaces the ability to provide up-to-date synchronised technology is available and likely to gain popularity in 2021.
-
While Hava.io is fully focused on the big three cloud providers, we're keeping an eye on market developments and the opportunities to incorporate new visualizations, platforms and incorporate new resources and technologies as they emerge.
As it stands, the ability to monitor resources, costs and visualize AWS security already exists within Hava and the overall governance benefits of well documented network topology are indisputable. If you are not using Hava to document and monitor your AWS, Azure and GCP cloud infrastructure yet, we invite you to take a look: