We're pleased to announce that a major update is now available for customers running Hava in self-hosted deployments.
A significant body of development work is now incorporated into this latest release and we highly recommend upgrading your self hosted deployments to benefit from the additional functions and features.
The Hava Version: 2.3.877 release features:
New major version upgrade for our HELM chart: v1.0.0
Our self-hosted guides have been revamped with this release as well:
https://developer.hava.io
Major new features:
Breaking Changes in this release for Kubernetes deployments
Feature: Diff View
Feature: Alerts
Feature: SNS display and connections
Feature: Display connections for SQS to Lambda
Feature: Display connections between DynamoDB and Lambda
Feature: Added new CLI for management and troubleshooting
Feature: Display load balancer connections to WAFv2
Feature: Display connect from S3 to SNS, SQS, and Lambda using notification configuration
Feature: Display connections between API Gateway and Lambda
Feature: Improve connection identification between route53 and CloudFront distributions
Improvement: Updated pricing data for AWS, Azure, and GCP
Improvement: Simplified backend workers, now running combined workers rather than multiple types for easier management
Improvement: Shares will now be removed when deleting an environment
Improvement: Upgraded dependent libraries for exporting diagrams
Improvement: API Gateway searches will now correctly return VPC Link resources
Improvement: Improved resource identification in environment created for default Kubernetes clusters
Improvement: Fix email layouts
Improvement: Improved user experience for adding new AWS sources
Improvement: Give a useful error for the search if hit a 502
Performance: Reviewed and added missing indexes to db
Performance: Cache environment data between page loads
Security: Team member delete no longer returns details about the removed user. If the user doesn't exist it just returns success
Security: Added limit to characters allowed on signup form
Major New Features:
Diff View
Compare any two diagram versions and highlight the resources that were added or removed.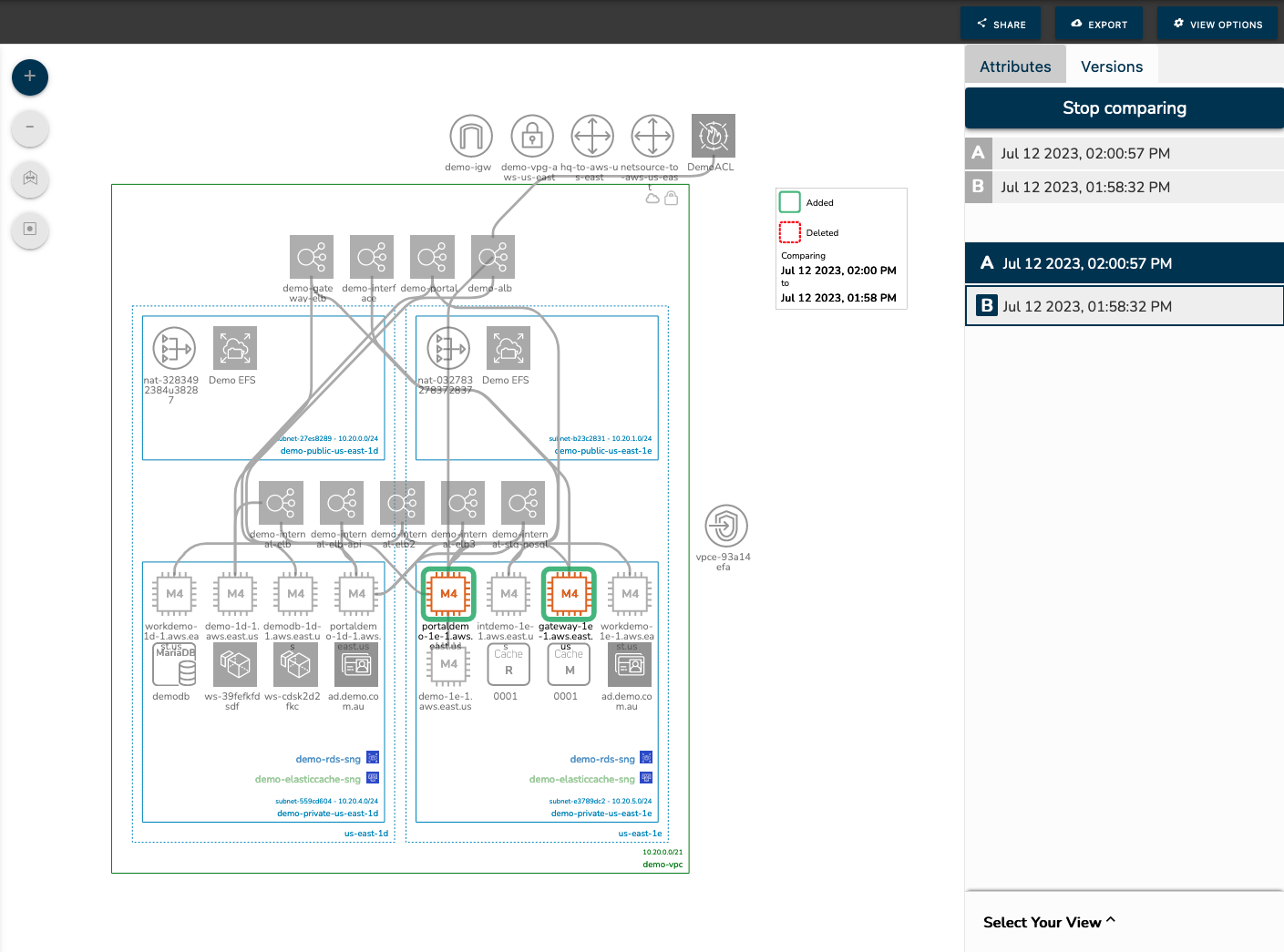 When you are tracking down architectural drift, or investigating the cost or security implications of recently deployed cloud resources, being able to see the difference between architecture versions helps answer many questions.
You can now use Hava to easily identify what has changed in your cloud environments with just 2 clicks.
You may be aware that Hava monitors connected cloud accounts in the background and updates diagram versions as changes are detected. This is done automatically, no manual intervention or log in is required to update diagrams.
When a change is detected, a new diagram is generated and the superseded diagram is retained in versioning.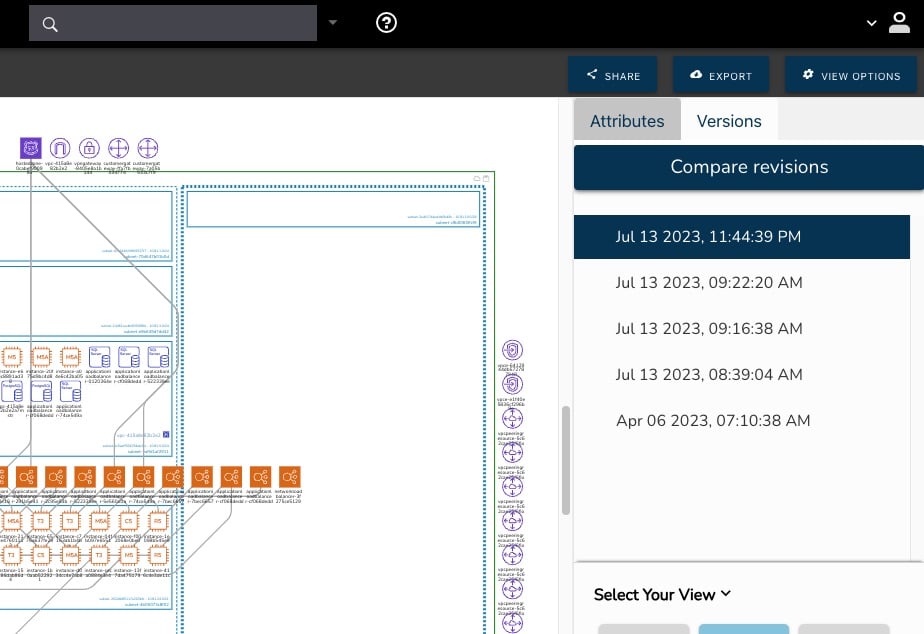 In the past you would need to pull up two diagram versions and visually compare them to identify the changes. Spot the difference was great, but there is a much better way.
The Hava version comparison feature or "Diff View" now automates that process.
Simply select the first architecture diagram version you wish to compare (Diagram A)
Then from the versions list select the diagram from a point in time you wish to compare diagram A to. This second selection is Diagram B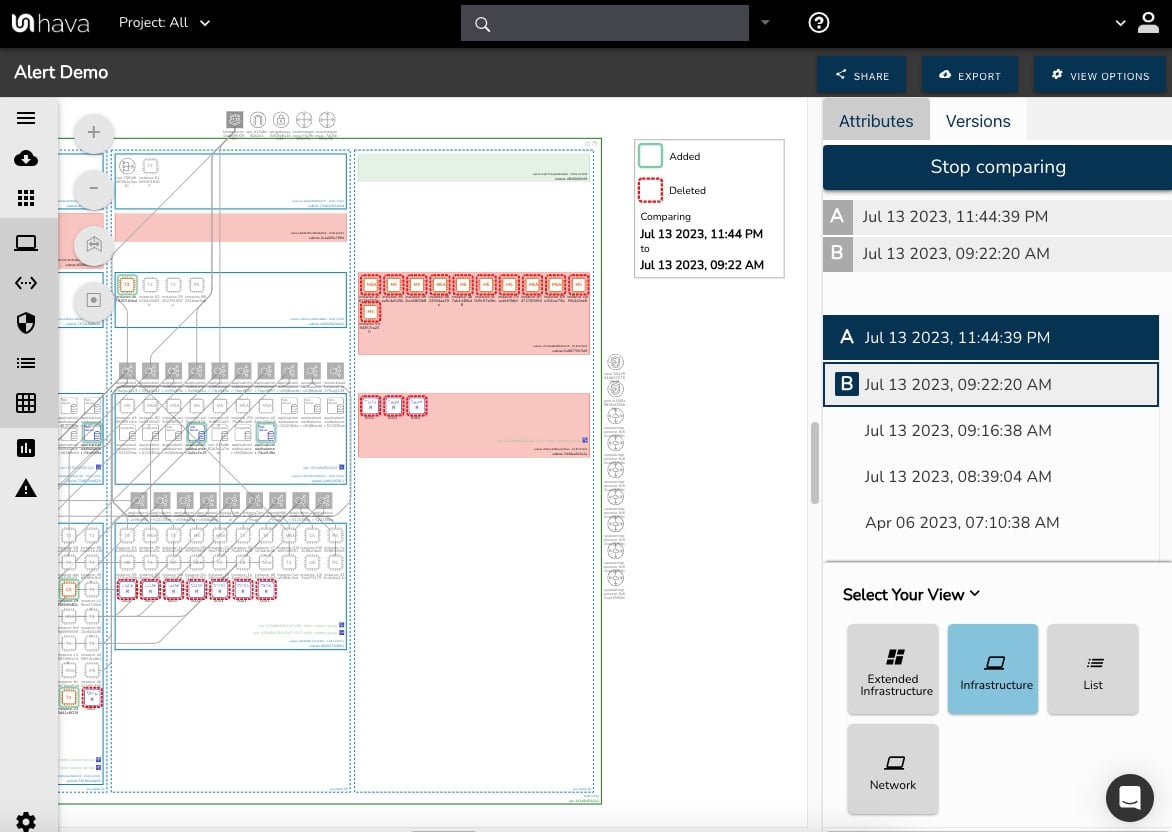 The diagram you are viewing will temporarily grey out all the resource icons, following that any changed resources will appear on the diagram as either:
Red - The resource was removed
Green - The resource was added
This allows you to easily see all the changes in seconds.
Diagram A can be any version in the list. As can Diagram B - compare forwards or backwards in time.
Here is a short walkthrough showing the Diff View in action.
Diff view is now live and generally available in both SaaS and self-hosted.
Architectural Monitoring Alerts
This feature allows you to set alerts against any environment or custom diagram.
When a change is detected, an alert is triggered which includes a Diff Diagram highlighting exactly what has changed. The alert is sent to the alerts console and also via email.
You specify which team members should receive the alert. These can be either your Hava account team members or unrelated external email recipients.
HOW TO SET UP ARCHITECTURAL MONITORING FOR AWS, AZURE AND GCP
You can set up alerts for any data sources (Cloud Accounts) connected to Hava.
You have the choice monitoring changes to an entire environment or just new services that are added.
Alerts can go to an entire team (on a teams account), an individual Hava user or an arbitrary email address not connected to your Hava account.
The first step is to select 'Alerts' from the side menu.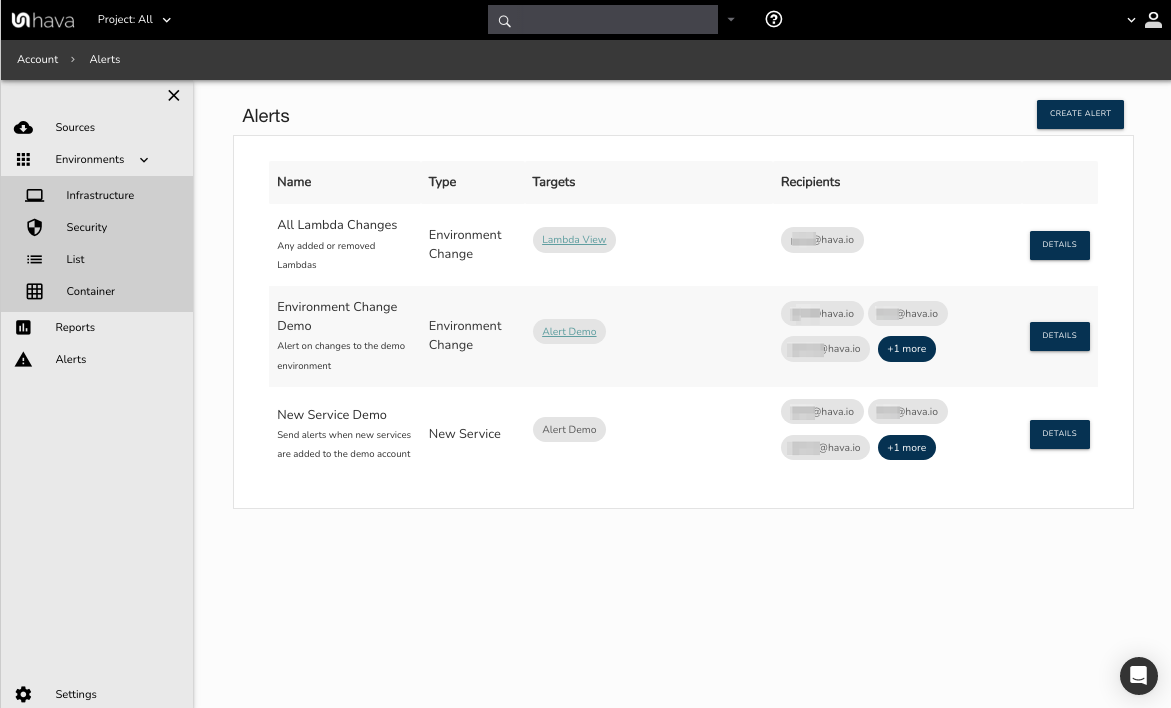 This will display all the active Architectural Monitoring alerts you have running.
To create a new alert, select 'Create Alert' in the top right of the Alerts screen.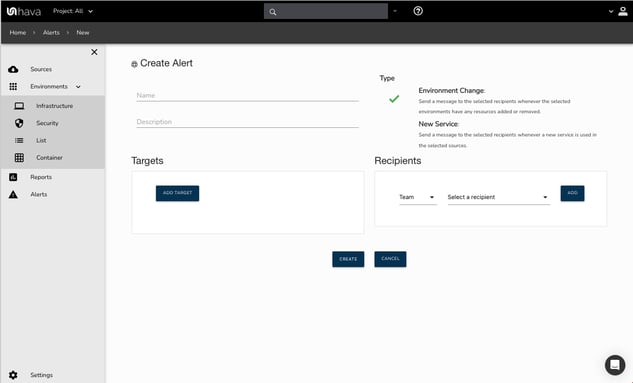 You can then name the alert and enter a brief description.
Now you have two options.
Monitor Environment Change: This allows you to select a specific diagram and then monitor the changes to to it.
New Service: This option allows you to monitor any new services added to a nominated cloud account (Data Source)
Hava Architectural Monitoring Alerts - Environment Change
When you select the alert type of Environment Change, you can then select a target from a list of environment diagrams.
You may select more than one environment for this alert.
You then select the destination for the alert. Either Team, User or Email Address.
Once you select the recipient type, you can then select the required team or user, or manually enter a value against the email address option.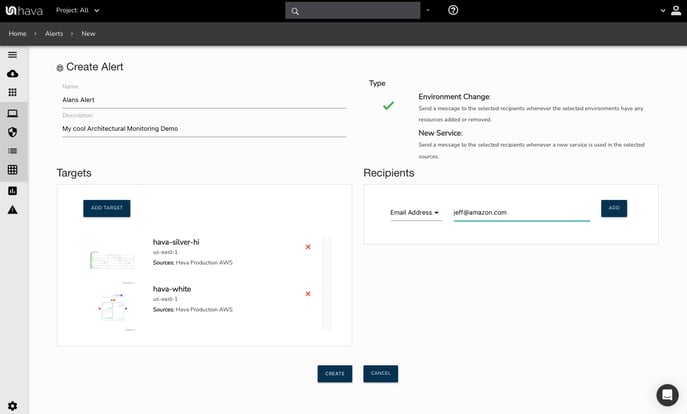 Hava Architectural Monitoring - New Service
To monitor for new services being added to a cloud account you can use the "New Service" alert.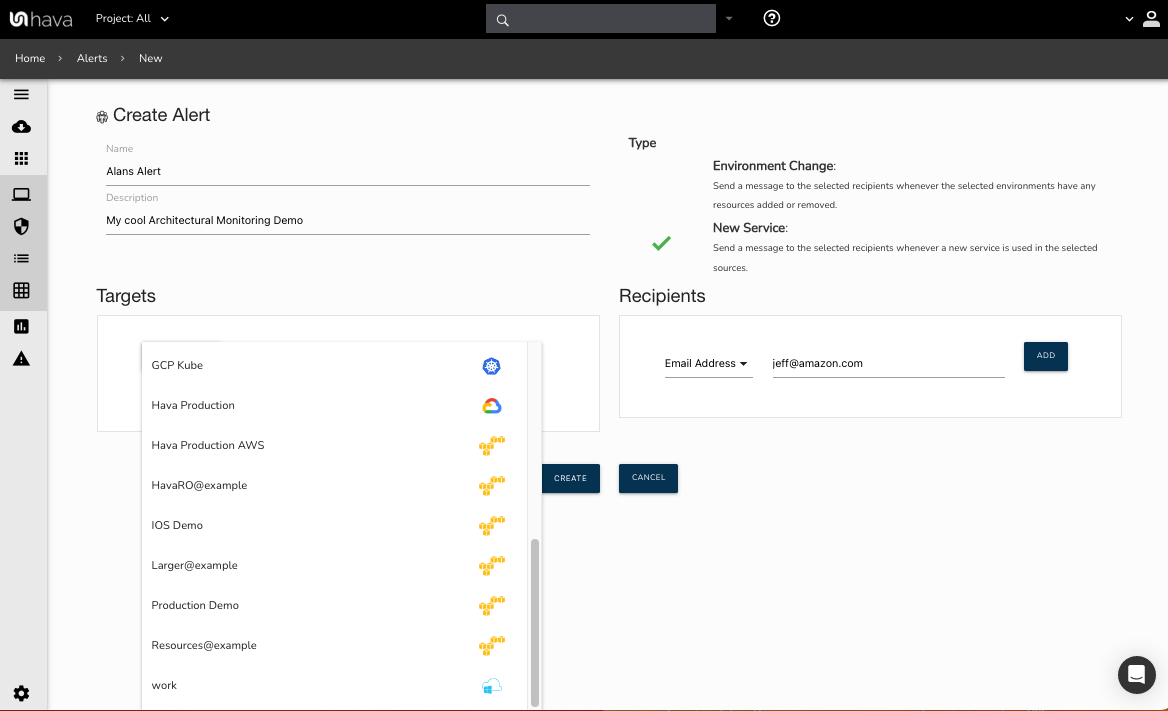 With this option you select a connected cloud account from the "Target" list.
The recipients list is identical to the first example.
Once set up, as your environments are synced by Hava, any changes covered by an alert will trigger an email to all recipients detailing the changes.
REVIEWING ARCHITECTURAL MONITORING ALERTS.
On top of the diagram and alert details sent during a monitoring event, you can view alert details from the alerts console.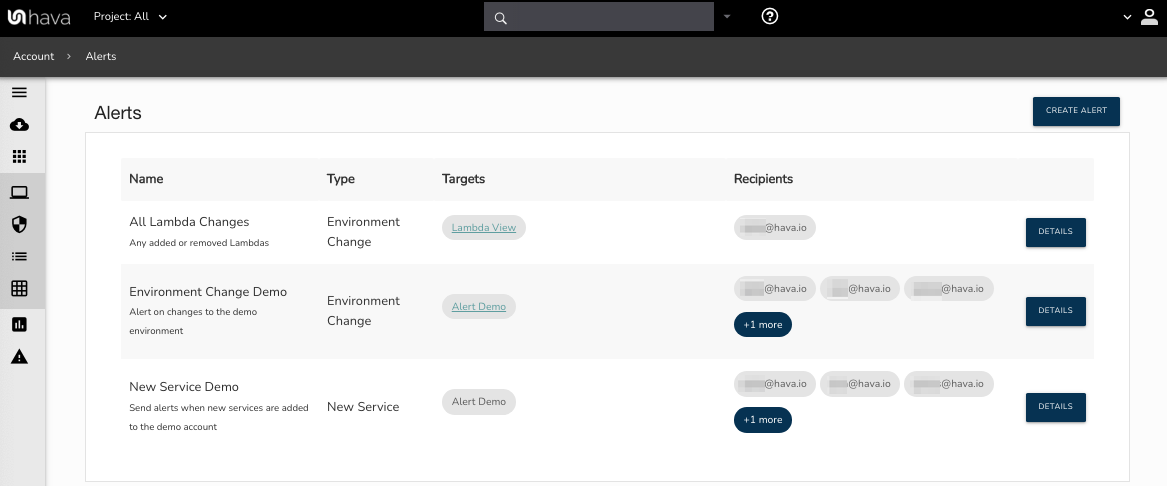 Select "Details" for the alert you are interested in:
In this example we will look at the Environment Change alerts on the 2nd alert.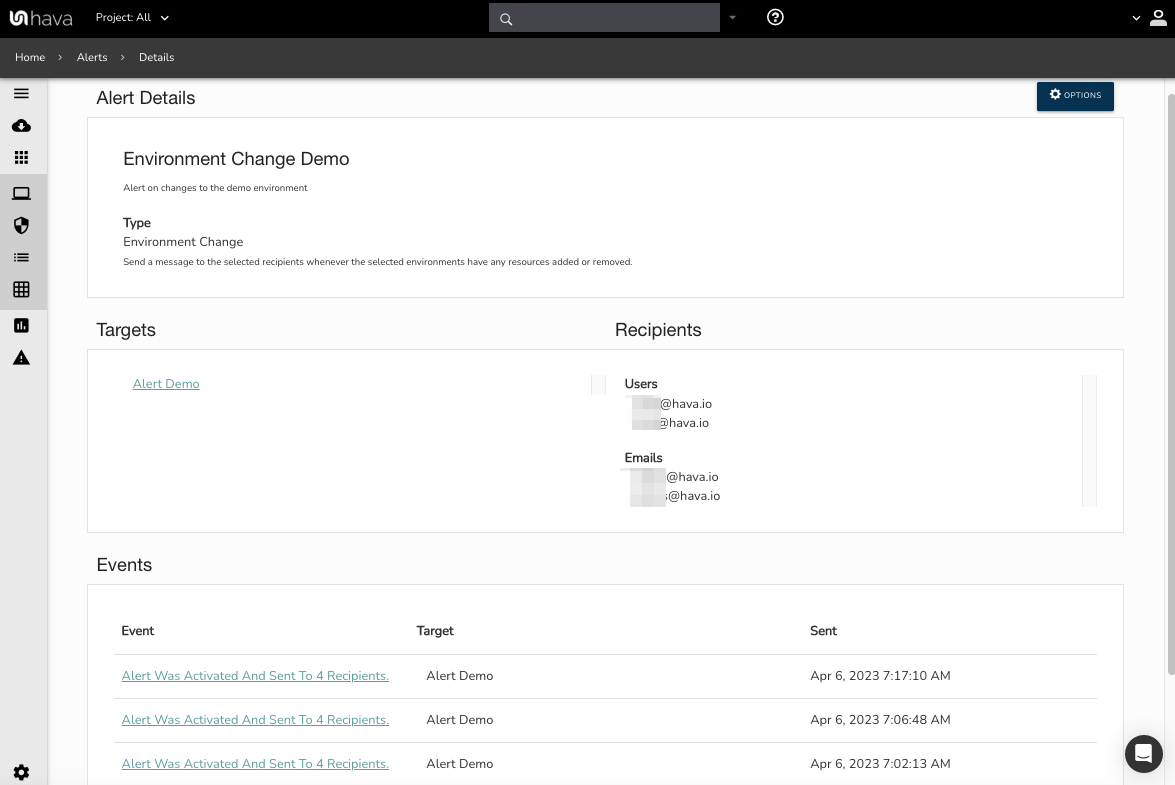 This shows the environment generating the alerts and the recipients, followed by a list of event notifications when Architecture changes were detected by the automated Hava sync process.
You can select any previous alert to view the details.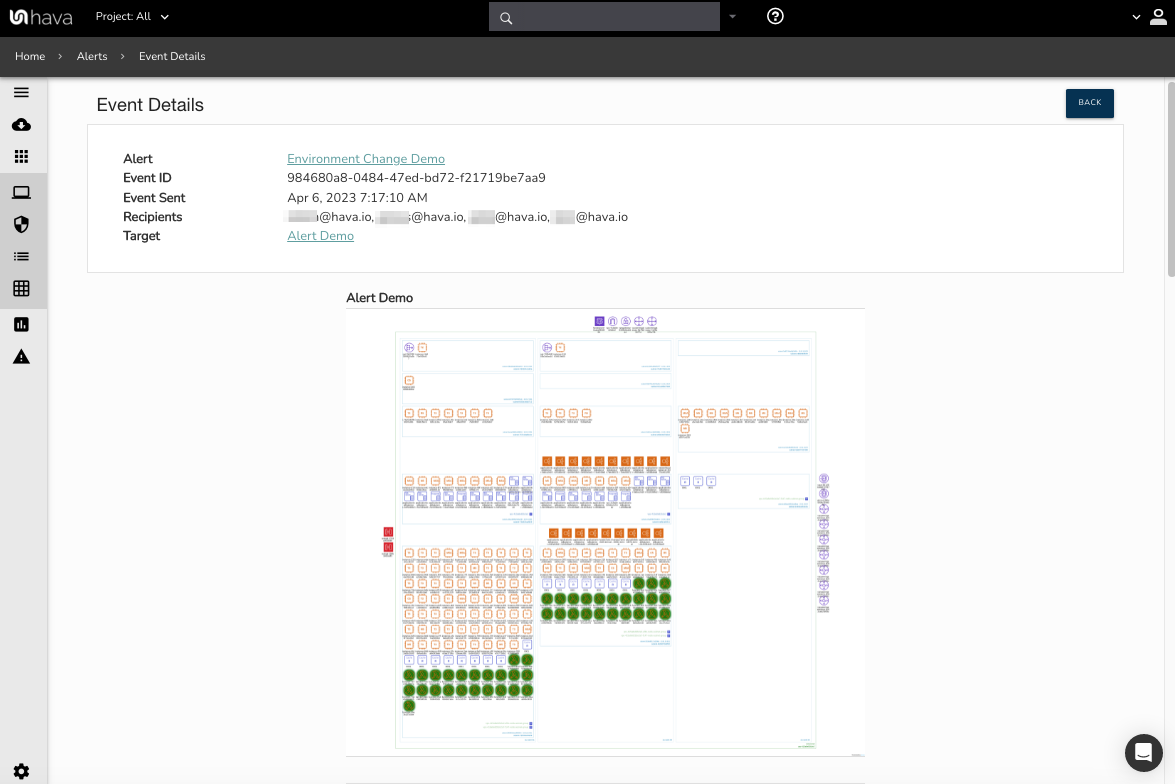 You can see the alert event detail followed by the diff diagram highlighting what has been added or removed.
Following the diagram is a detailed list of the resources that have changed.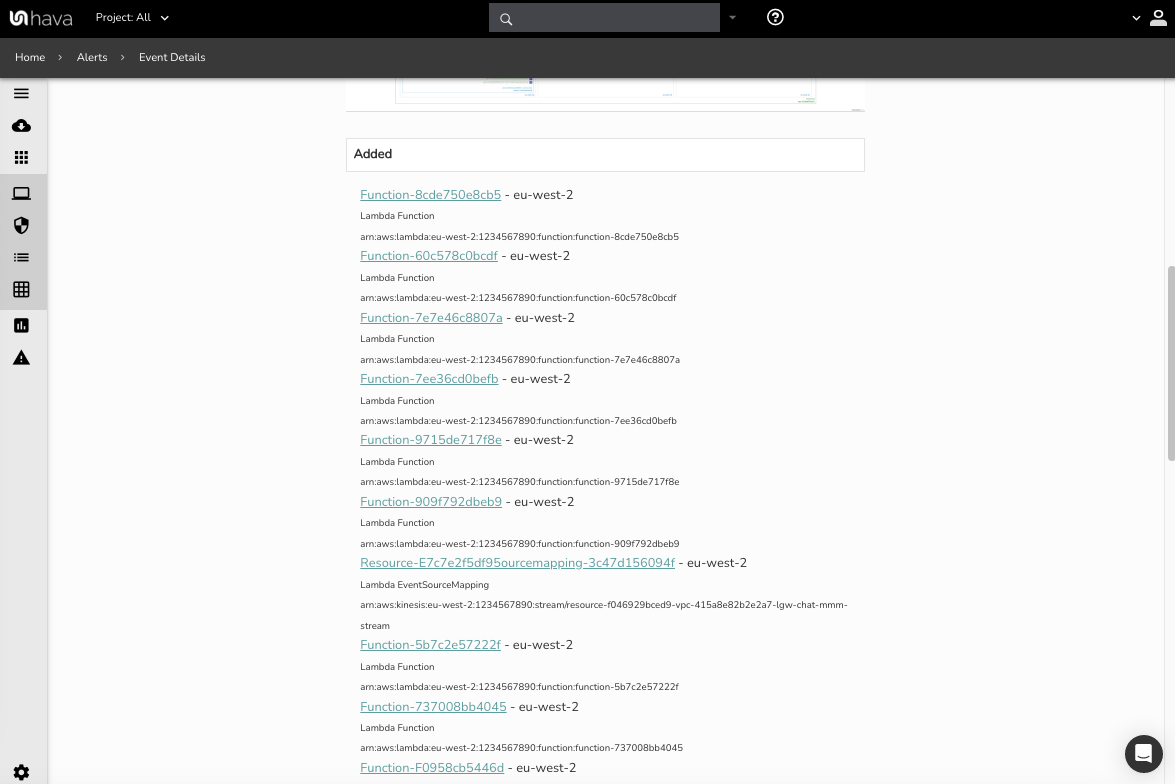 Selecting any of the resources in the list will open a custom diagram view of the resource where you can investigate the settings of the resource without having to navigate to your cloud console settings.
The Architectural Monitoring function built into Hava is now GA
Thanks for