There was
Hava was born
We knew the cloud config data was accessible on the big 3 cloud providers. We also knew we had some pretty incredible coding talent leading our teams, so we decided to see if we could automate the process and build diagrams directly from the configuation data.
The significant investment in time and money required to build hava was daunting, but our management had vision (and still does) and they could see the returns to our consulting division would pay off over and over as days and weeks of work were reduced to just minutes.
What did we solve
Always up to date diagrams - hava polls config data hourly or on demand
Removed human error. Hava maps actual network topology so you see your environmetns from the source of truth.
Logically laid out clean diagrams you can use to easily explain whats going on.
Ability to instantly respond to executives, management and auditors
A full audit trail of config changes. Any changes across your entire cloud account is captured in a version history
In-depth attributes list. Click on a resource and drill into all the properties and associations.
Visualized AWS infrastructure by VPC with Peering
Visualized Azure infrastructure by Virtual Network and Subnet
Visualized GCP infrastructure by Network and Subnet
Visualized the AWS security groups showing open ports and traffic flow
Built custom search capability to allow you to create your own Hybrid Cloud diagrams.
Filter function to limit a custom diagram to your required region, vpc, subnet, vn, source or IP ( or any combination thereof )
The list goes on and on. Hava provides so much more data and detail, it's hard to justify calling it a diagramming tool - it's so much more.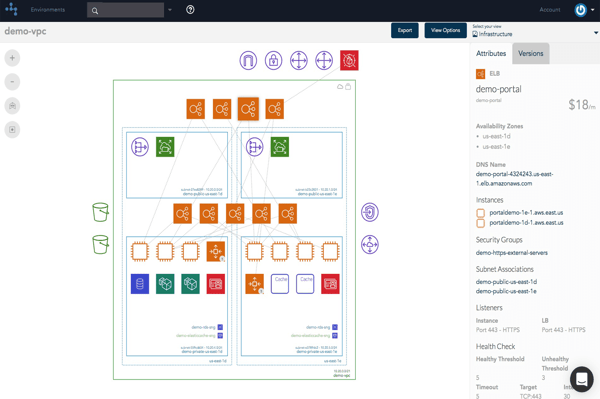 What can your team do?
Once you connect Hava to your data sources (cloud accounts) we import the configuration data and render the infrastructure diagrams.
There are separate diagrams for different use cases .
The Infrastructure View diagram as seen above lays out your environment and details the resources that make sense to visualize.
The List View is a comprehensive list of all the resources found in your config including minor components that would clutter up the diagram, like network cards & WAF rules
The AWS Security view shows everything your security team needs to know.
Your team can export these diagrams at any time into your favorite drawing tool or to a JPG or PDF for inclusion in management reports.
The diagrams are updated every time a change is detected and the old version is stored in the archived config area. This means you can go back in time and pull documentation showing the state of play at any point in history, which is worth its weight in gold when something breaks or you get a PCI compliance, security or insurance audit.
API
Hava has a fully featured API that enables you to pull config data, fire sync requests and any perform number of tasks and functions.
The API has been used to do some quite complex tasks like
Adding gifs of a network topology diagram into a build pipeline to retain as an artefact in the build record.
Automating bulk cross-account role creation while generating data sources in hava
Pull all your resources and sort by price
Pull revisions and compare pricing over time
Pull instances with old revision dates to review their currency
Hava is available in two formats. You can simply connect your cloud credentials to the cloud SaaS version at hava.io and you'll be producing elegant 100% accurate diagrams in minutes.
If you need a self-hosted Enterprise Solution, then have a chat with our sales/support staff and we can organize a discovery call to explore how we can best serve your organizational needs.
Do you have some Questions ?
There's a chat dialogue at the bottom right of this page, or you can email us at sales@hava.io and we'll get back to you promptly.
Thanks for your interest in Hava automated cloud diagrams.