Getting Started
This guide will show you all the steps required to go from logging in to viewing infrastructure diagrams in Hava. Ideally you will already have your credentials ready to import (see our guides in the menu to the left), but it's not a requirement. Let's get started!
Nothing to See Here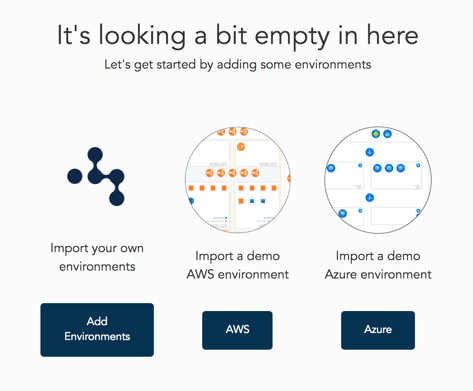 When you first log into Hava you'll see a few links with options to get started. If you have some credentials ready to import just click 'Add Environments' to start importing straight from your account. If you want to see what Hava can do first then just click one of our demo links to create and import an example source.
Regardless of which option you chose your import will go through the following stages:
Importing: Hava is importing all the resources it has access too. If you want to restrict access to anything then no problem - Hava will only draw what you let it access and ignores anything else.
Connecting: at this point Hava has everything it needs and is determining relationships between your resources.
Rendering: everything is ready to go and Hava is creating the diagrams for your environments!
By now you should start seeing some diagrams show up.
The Environment List
This screen will list all your environments and their views. An
environment
is a collection of resource that relate to each other and a
view
is a way of displaying that environment. For instance you might have an environment that contains all the resources in a particular VPC which would then have an infrastructure view, a security group view, and a list view.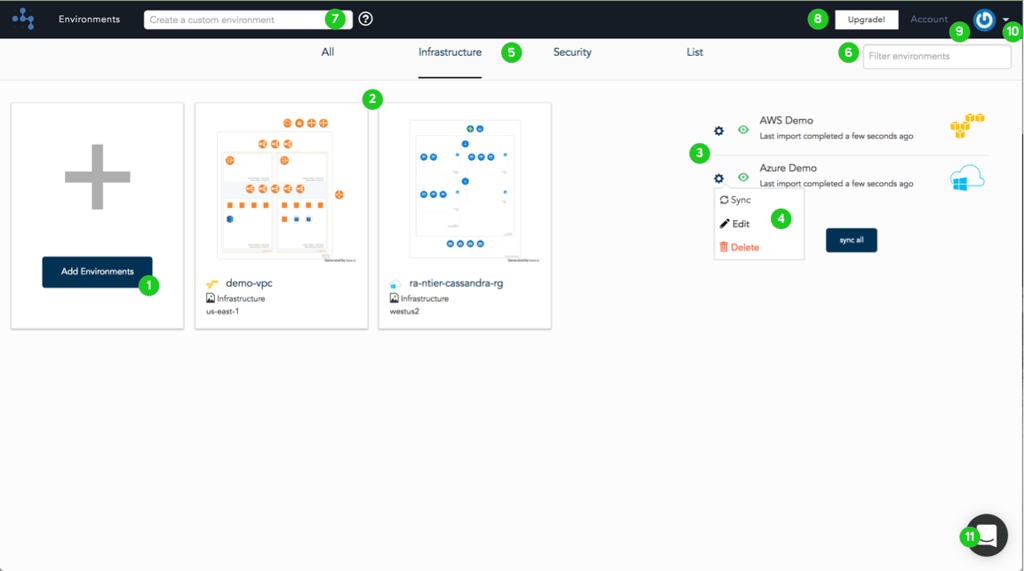 Add Environments: when you have some read-only credentials ready to import you can click this to display the source creator dialog. Just select the provider and type of credentials you want to create and Hava will start importing and creating environments.
View list: once you have imported a source into Hava then the different view diagrams for your environments will be displayed here.
Source list: the sources you add to Hava for your imports will display here, as well as details of the last import. You can click the 'eye' icon here to hide environments linked to this source from the environment list.
Source settings: click the 'cog' icon next to the source to display a drop down menu where you can choose to sync the source and import the latest information, edit the name of the source, or delete the source entirely. Deleting a source will also remove all resources, environments, and views linked to it.
View filter: by clicking any of the view types at the top of the page you can select which views will be displayed in the list.
Filter by text: you can enter a substring search here to filter the view list based on any value contained within the environment. For instance, if you are searching for a particular instance you can enter it's name to display the views that contain that instance. Or if you're search for a particular IP address you can enter that to narrow down your search to the environment(s) containing that IP.
Custom search: if you wish to create your own custom environments you can enter search parameters here to define exactly what you wish to be displayed, then save that as an environment that will be updated each time you import new resources. For more information check out our custom search documentation.
Upgrade your account: if your trial has expired or you want access to export your diagrams then select this to upgrade your account.
Account area: edit your account name, manage your subscription and billing information, and invite team members to view your account.
User area: update user name and password, select your default account, and logout.
Talk to us: click this icon if you have any questions, suggestions, or just want to chat about Hava!
Viewing Your Diagrams
Clicking on any of the views in the list will take you to the diagram viewer. This screen will display the interactive diagram of your view allowing you to pan, zoom, and click on parts of the diagram to get more details. You can also switch between the different views of the selected environment from here.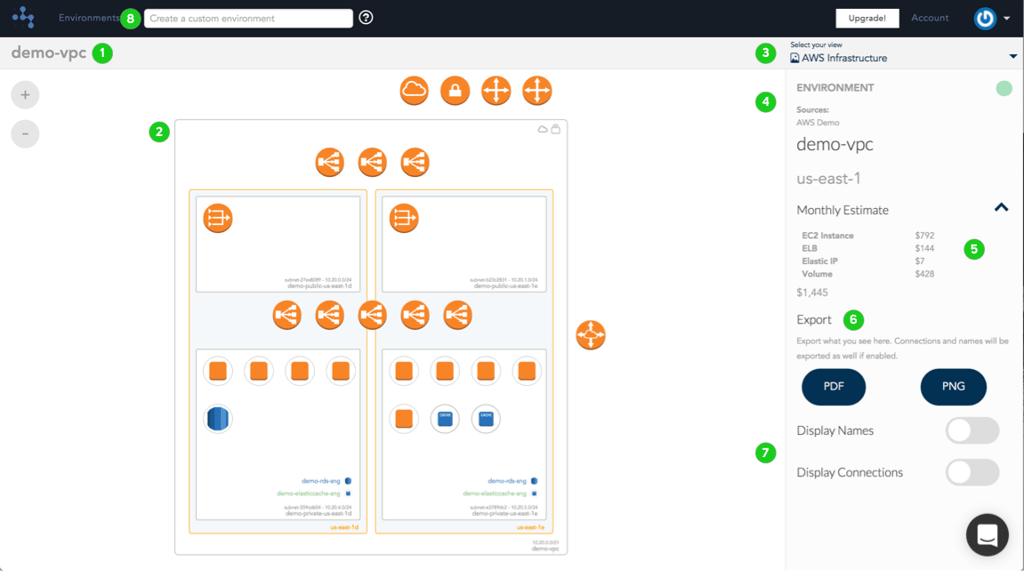 Environment name: displays the name of your environment. For your imported diagrams this is generated from the VPC or Resource Group that it visualises. You can click on elements of the diagram to see more specific details about them and their associated resources.
Interactive canvas: displays the current view you have selected. Depending on the view you will have the option to click and drag to pan, as well as buttons to zoom in or out.
View selector: if your environment has multiple views this will allow you to switch between them.
Environment details: when you have no resources selected on the diagram it will show the environment summary. This will contain details such as the sources the environment is linked to, the environment name, and the region or location it is hosted in.
Monthly cost estimate: you can view the estimated cost of your environment here, if applicable. Click the arrow next to it to show a summary of the different resource types and their costs.
Export your diagram: you can export your diagrams to different formats using these buttons. Only available to paying accounts.
Display options: you can toggle display options for some views here, such as the ability to show resource names or connections for load balancers.
Environments link: click this link to go back to the environment list.
What's Next?
We've only touched the surface of Hava in this guide but we hope it was enough to give you a good idea of what Hava can do for you. Read the rest of our guides using the menu on this page. Add some users to your account and collaborate, use the search bar to create custom views, re-sync your environments to see what's changed, and if you're still using the demo sources then try creating some credentials and importing some real diagrams.