This week's roundup of all the cloud news.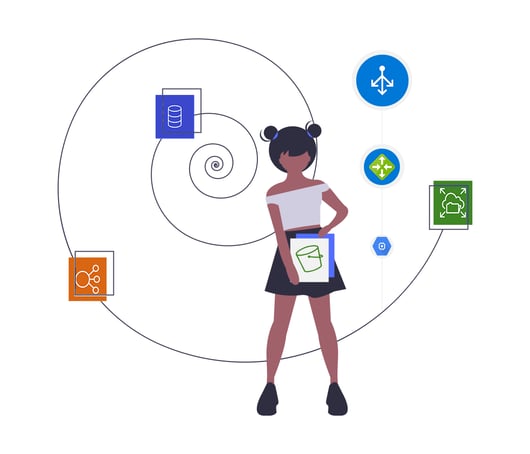 Not too much to report from the Hava camp this week. The engineering team have been beavering away on the roadmap and putting the finishing touches to a few major enhancements, nothing we can talk about right now, but watch this space.
Here's all the news from AWS, Azure and GCP for the week ending October 30th 2020.
Application Load Balancers enables gRPC workloads with end to end HTTP/2 support
Amazon Kendra achieves HIPAA eligibility
AWS Server Migration Service now adds support for application monitoring using Amazon CloudWatch Application Insights
AWS Site-to-Site VPN now supports health notifications
Customers can now use Jira Service Desk to track operational items related to AWS resources
Simplify provisioning of compute resources with version 1.7 of the AWS Service Management Connector for Jira Service Desk
AWS Service Catalog now provides One-Page Provisioning with a new console experience
Amazon API Gateway now supports disabling the default REST API endpoint
Amazon DocumentDB (with MongoDB compatibility) adds support for increased change stream retention and ability to watch change stream events on a database or the entire cluster
Amazon Neptune now supports Apache TinkerPop 3.4.8 in the latest engine release
Announcing General Availability of AWS Nitro Enclaves
Announcing SSL/TLS certificates for Amazon EC2 instances with AWS Certificate Manager (ACM) for Nitro Enclaves
Amazon Elasticsearch Service adds native SAML Authentication for Kibana
Introducing the AWS Activate Console - helping startups accelerate their growth and development
Amazon Elasticsearch Service announces support for Elasticsearch version 7.8
EC2 Image Builder now supports AMI distribution across AWS accounts
Now generally available – design and visualize Amazon Keyspaces data models more easily by using NoSQL Workbench
New Amazon Neptune engine release now enforces a minimum version of TLS 1.2 and SSL client connections
Amazon ElastiCache for Redis Global Datastore now available in 6 additional regions
AWS Elemental MediaPackage expands Monitoring and Deployment Automation capabilities
AWS IoT SiteWise launches support for VPC private links
Amazon Kendra adds Confluence Server connector
Now use AWS Systems Manager to view vulnerability identifiers for missing patches on your Linux instances
AWS Fargate Spot for Amazon ECS is now supported in AWS CloudFormation
Amazon AppFlow supports importing custom dimensions and metrics from Google Analytics to Amazon S3
Amazon Redshift announces support for Lambda UDFs and enables tokenization
Introducing the AWS Load Balancer Controller
New Google Cloud security announcements
New Google Cloud shell editor
Cloud Shell provides you with command-line access to your cloud resources directly from your browser. And this week Google were excited to introduce a new version of our Cloud Shell Editor, immediately available in preview on ide.cloud.google.com and powered by the Eclipse Theia IDE platform. This new version extends Cloud Shell with an online development environment that includes:
Cloud-native development via Cloud Code plugin support

Rich language support for Go, Java, .Net, Python and NodeJS

Additional features such as integrated source control and support for multiple projects
New Google Cloud storage gets new OLM controls
Managing your cloud storage costs and reducing the risk of overspending is critical in today's changing business environments. Google announce the immediate availability of two new Object Lifecycle Management (OLM) rules designed to help protect your data and lower the total cost of ownership (TCO) within Google Cloud Storage. You can now transition objects between storage classes or delete them entirely based on when versioned objects became noncurrent (out-of-date), or based on a custom time stamp you set on your objects. The end result: more fine grained controls to reduce TCO and improve storage efficiencies.
UPComing Events:



New digital course: Advanced Testing Practices using AWS DevOps Tools
This new digital course, Advanced Testing Practices using AWS DevOps Tools, teaches you how to improve application reliability and security by integrating and automating testing into your AWS DevOps pipelines. This advanced course is designed for DevOps engineers and developers who have significant experience with DevOps methodology and practices.
Coursera is offering on month of no-cost access to 6 GCP certification courses until November 19th.
These include:
Google Cloud Networking Professional Certificate
Google Cloud Security Professional Certificate
Google Cloud SRE and DevOps Engineer
GCP Associate Cloud Engineer
GCP Cloud Architect
GCP Professional Data Engineer
Read more : https://cloud.google.com/blog/topics/training-certifications/google-cloud-certification-training-on-coursera
Azure Virtual Events
Microsoft have a full schedule of Virtual Events
A full list including session times and details are here : https://azure.microsoft.com/en-us/community/events/
AWS Events:
AWS events are pretty fluid at the moment, with most in-person events being cancelled or postponed. There are a number that have been taken online and full details can be found here: https://aws.amazon.com/events/
Thanks for reading again this week, we hope you found something useful.
hava.io allows users to visualise their AWS, GCP and Azure cloud environments in interactive diagram form including unique infrastructure, security and container views. hava.io continuously polls your cloud configuration and logs changes in a version history for later inspection which helps with issue resolution and provides history of all configs for audit and compliance purposes.
If you haven't taken a hava.io free trial to see what the GCP, Azure and AWS automated diagram generator can do for your workflow, security and compliance needs - please get in touch.
You can reach us on chat, email sales@hava.io to book a callback or demo.